Apply Now
Applications for September 2024 entry are now open!
Apply here for September 2024 entry
Students can apply online via the college website until Thursday 21 December, 12 noon.
We are delighted that you want to apply to study at RSFC. The next year will be an exciting, and sometimes nervous, time for you. Please be assured, you are never alone at RSFC; there will always be someone to support and guide you before, during and after your studies.
Partner Schools
RSFC has a network of secondary schools which we work in partnership with. Working with our colleagues we offer outstanding programmes to support students when considering their next steps and help make them aware of future opportunities.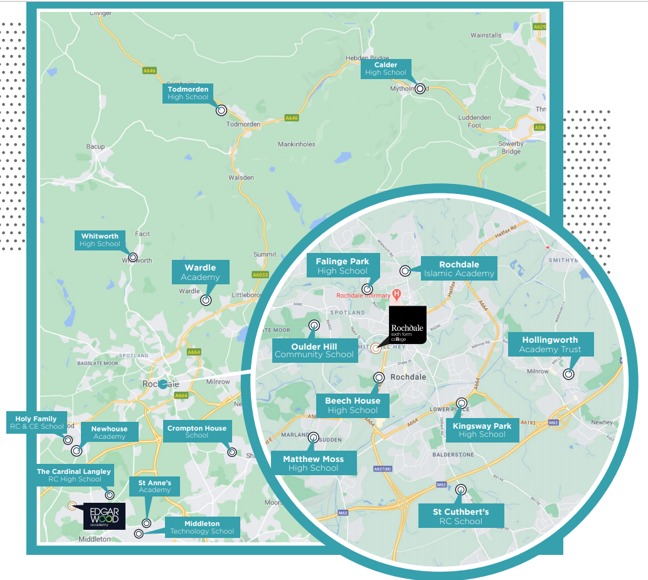 Partner Schools

Non Partner Schools

If you attend one of our partner schools:

You can pick up a prospectus from your school (these are usually sent to your school in the first/second week of September) or the local careers office. You can also contact the college and ask for one to be sent in the post. The prospectus can also be viewed/downloaded here
College staff will visit your school during 2023/24, usually in an assembly (or this may be held by video link)
College representatives may attend Year 11 Parents' Evenings if these are taking place
Interviews will be held here at RSFC
Rochdale Sixth form College will notify you of your interview date and time

If you attend a non-partner school:

Upon request prospectuses can be posted out to your home. They can be collected from the college during open events or it can be viewed/downloaded directly here
Rochdale Sixth Form College Open Days normally take place in October and November these dates are promoted via social media and our own website
Interviews are held here at RSFC
Rochdale Sixth form College will notify you of your interview date and time
Any questions?
If you have any questions about the college or applying here, then our student administration team are happy to help.