RSFC students win the Manchester University Business School 'Investment Challenge'.
News - 8 July 2021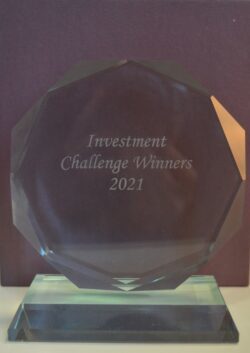 Recently eight of our students participated in a Manchester University Business School 'Investment Challenge'. The project aimed to develop students' financial skills, enrich their business awareness, and boost their academic profiles.
The event was funded and supported by Alliance Manchester Business School and delivered in partnership with Global Investor Simulations.
On 24 and 25 June, RSFC students faced tough competition from 15 other Manchester based colleges in a stock trading investment challenge, relying on their teamwork and problem-solving skills. Grouped up into 4 teams of 2, the students were given a base fund of £300,000 and were tasked with generating as much profit as possible by investing in virtual stocks and funds.
Across the two days, the students topped the leader board and won the overall competition, achieving an average closing fund of £423,826.
The students also discussed a range of topics with ambassadors from the Alliance Manchester Business School including: what it is like to study in the financial sector; and discussing life at university.
Professor Fiona Devine, Head of Alliance Manchester Business School, commented: "The challenge gave the students the opportunity to develop worthwhile skills such as team-building and problem solving, as well as an understanding of how these skills can be used at University and in their working life, whichever career path they choose."
Congratulations to our eight winners we hope you enjoy the winners hoodies!