Rochdale Town Centre welcomes Little Amal – a little girl on a big journey
News - 5 November 2021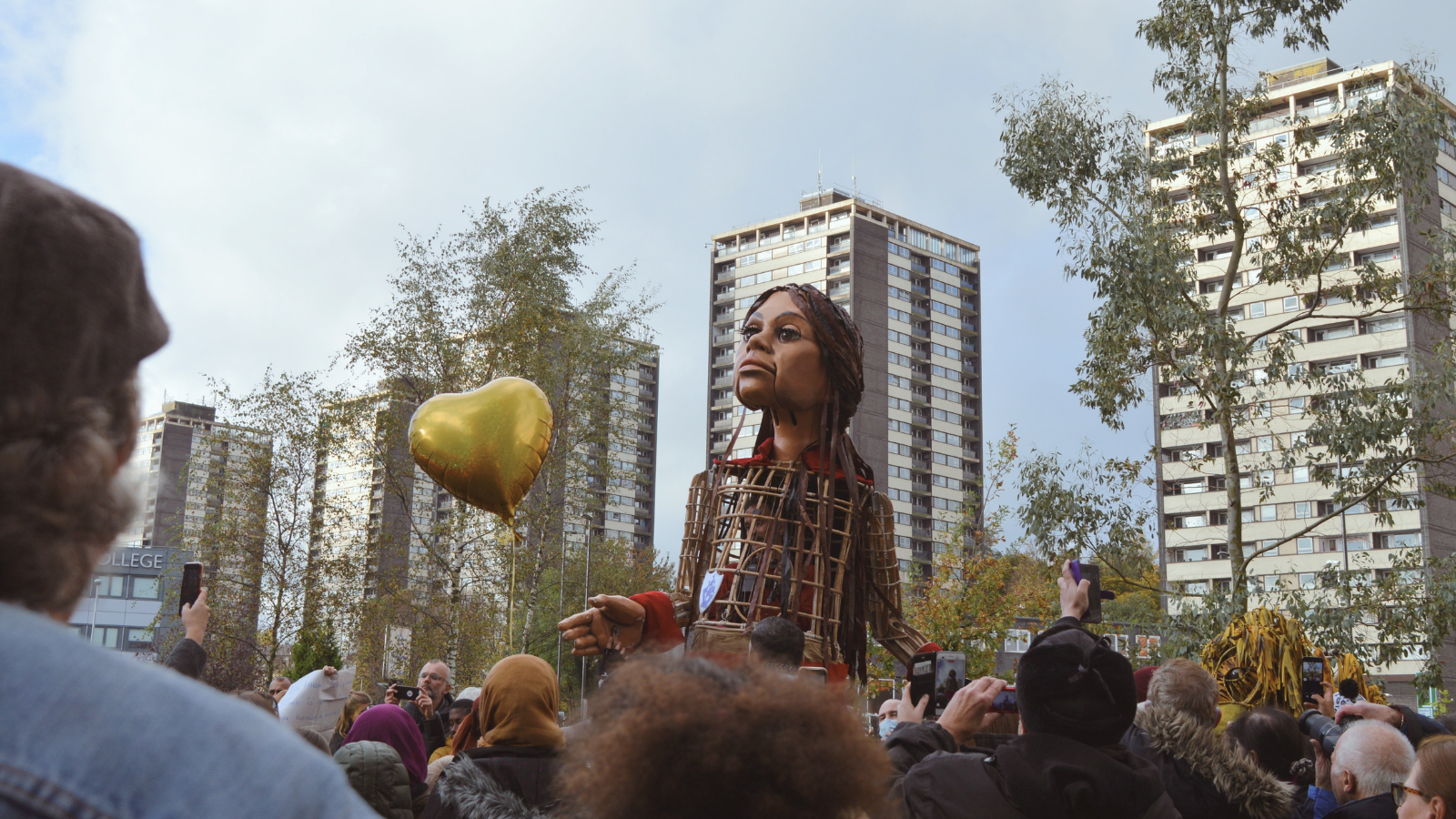 Little Amal, a 3.5 metre puppet, visited Rochdale Town Centre this week, as she made her penultimate stop on her epic 8,000km journey from the Turkish-Syrian border to the UK in the search of her mother. Amal was whole-heartedly welcomed by everyone in the town, including our very own RSFC Student Union.
The president of the SU, Jack Kelly, greeted Amal and was able to present her with a gift from everyone at RSFC. The Student Union attended the event to welcome Little Amal to her new home in Greater Manchester. The event is a continuation of their work to raise awareness of the struggles of refugees who are part of our college and the wider community. They also hope to continue their campaign to change the rules regarding the inability of refugees to apply for student finance in the UK.
Amal was created as a public art project produced for Good Chance in association with Handspring Puppet Company - famous for creating the horse puppets in War Horse.
Since July, Amal has been met by crowds of people along her journey as she raises awareness of the plight of young migrants and represents the millions of displaced children around the world. She has travelled through Turkey, Greece, Italy, Switzerland, Germany, Belgium, and France, following the route that a child migrant from Syria might take to travel to the UK to find refuge.
Along the way, Amal has been greeted joyfully by crowds and has provided an opportunity for thousands of people to reflect on their own attitudes towards refugees, particularly towards the hundreds of thousands of children forced to flee their homes because of conflict over the past decade.
Little Amal was greeted and blessed by the Pope in Rome, celebrated her 10th birthday in London and has received thousands of letters and gifts throughout her journey.
In RSFC, 41 nationalities are represented among the student body, something of which we are extremely proud. Little Amal is a symbol of the courage and perseverance that refugees display in their ever-striving journey to safety, she is a light in a world of darkness.
Little Amal reached the end of her journey at Castlefield Bowl on November 3rd. Thousands of people cheered her on along the way and she was greeted with cheers and applause. In a powerful finale, the voice of a woman - Amal's lost mother - echoed out - and she walked off through smoke to greet her and to start their new life in Manchester.